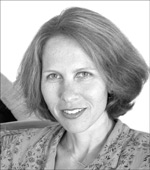 The decision to begin psychotherapy can be a life-altering one. I approach my work with individuals, couples and groups with this in mind. My style as a psychotherapist is interactive, respectful and supportive as I collaborate with clients to create lasting, positive changes in their lives and relationships.
My private therapy practice is in the East Bay (in Kensington bordering Berkeley) and includes a wide spectrum of clients and issues. Through my experience I have developed faith that individuals seeking to make changes in their lives can do so. I offer resources to help my clients:
Increase self-awareness and understanding

Create happier and more loving relationships

Transform depression and low self esteem

Decrease stress and anxiety; increase mindfulness

Improve parent/child relationships

Resolve recurrent issues which impact present fulfillment

Heal from childhood trauma

Grieve lost relationships as well as other losses

Experience personal and spiritual growth
I have a special interest in prenatal, postpartum and parenting issues and invite you to explore my website to discover more information and resources.